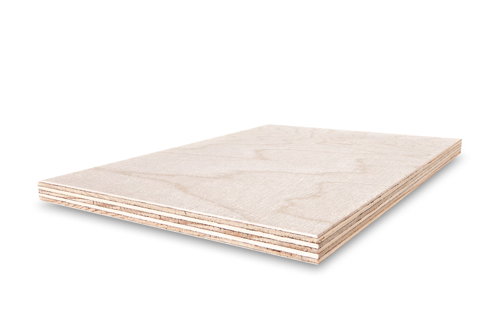 TwinPly

The inner layer is softwood boards such as pine, spruce, and the outer layers are covered with birch veneer, it is high-quality thick plywood with high strength and moisture resistance. This product has more functional properties compared to pine plywood while maintaining low weight and higher static bending strength. Thick-layered pine reduces core weight, while hardwood veneers increase durability and give the surface a natural, homogeneous appearance.
The main areas of application include: construction (where good performance characteristics are required while maintaining low weight), transportation
A natural appearance and smooth surface structure
High elasticity and flexural modulus value
Easy to process
BB - The ideal surface for painting and varnishing, the ideal surface for thicker coatings, films, interior painting, and other surface treatments, both transparent and non-transparent.
CP(IV) – For use in places where the appearance of the surface does not matter. Snagged and puttied surface.
STANDARD SIZE (mm): 2500×1250
STANDARD THICKNESS (mm): 9-12-15-18-21-24-30-35-40-50
SURFACE CLASSES: BB.CP
SURFACE QUALITY: SANDED ON TWO SURFACES ( S2S )
FORMALDEHYDE EMISSION: E1
WATER RESISTANCE: HIGH
GLUE: WBP (MARIN)
DENSITY (kg/m3): 605 kg/m3
It provides a wide range of applications in transportation, toys, construction, all kinds of furniture and interior decoration works, roof and building facades, and packaging works. It is suitable for CNC process.