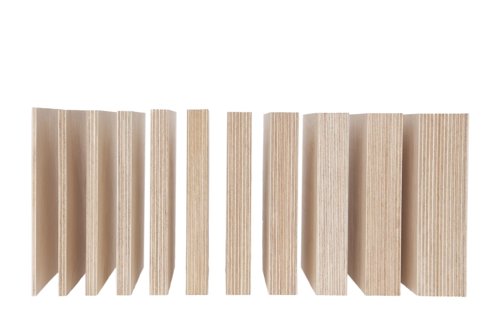 SVEZA Toy provides NS standards in the form of 100% birch plywood.
100% birch veneer
High-grade, pleasant, natural wood texture
High thickness tolerance
Safe material (CARB ULEF*)
Ideal face coating for sanding and coating ≥ 0.7mm
Continuous flat panel
Laser compatible
TYPE OF PRODUCT: SVEZA Toy / SVEZA Laser (MR) / INTERIOR BIRCH PLYWOOD
STANDARD SIZE (mm): 1525×1525 (5×5) , 1220×1525 (4X4) , 1525×1250 (5×4)
STANDARD THICKNESS (mm): 3-4-6.5-9-12-15-18-21-24-30
SURFACE CLASSES: I ( B,S) , II ( BB ) , III ( CP) , IV ( C )
SURFACE QUALITY: SANDED ON TWO SURFACES (S2S), SINGLE SURFACE SANDED (S1S), NOT-SANDED
FORMALDEHYDE EMISSION: E1
WATER RESISTANCE: NORMAL
GLUE: MR 
DENSITY(kg/m3): 640 – 700
NS Safety-related toys and children's furniture, laser and CNC processes. In all kinds of interior furniture applications.